Julia Scavo: A sommelier is an emotion merchant, but also a knowledgeable professional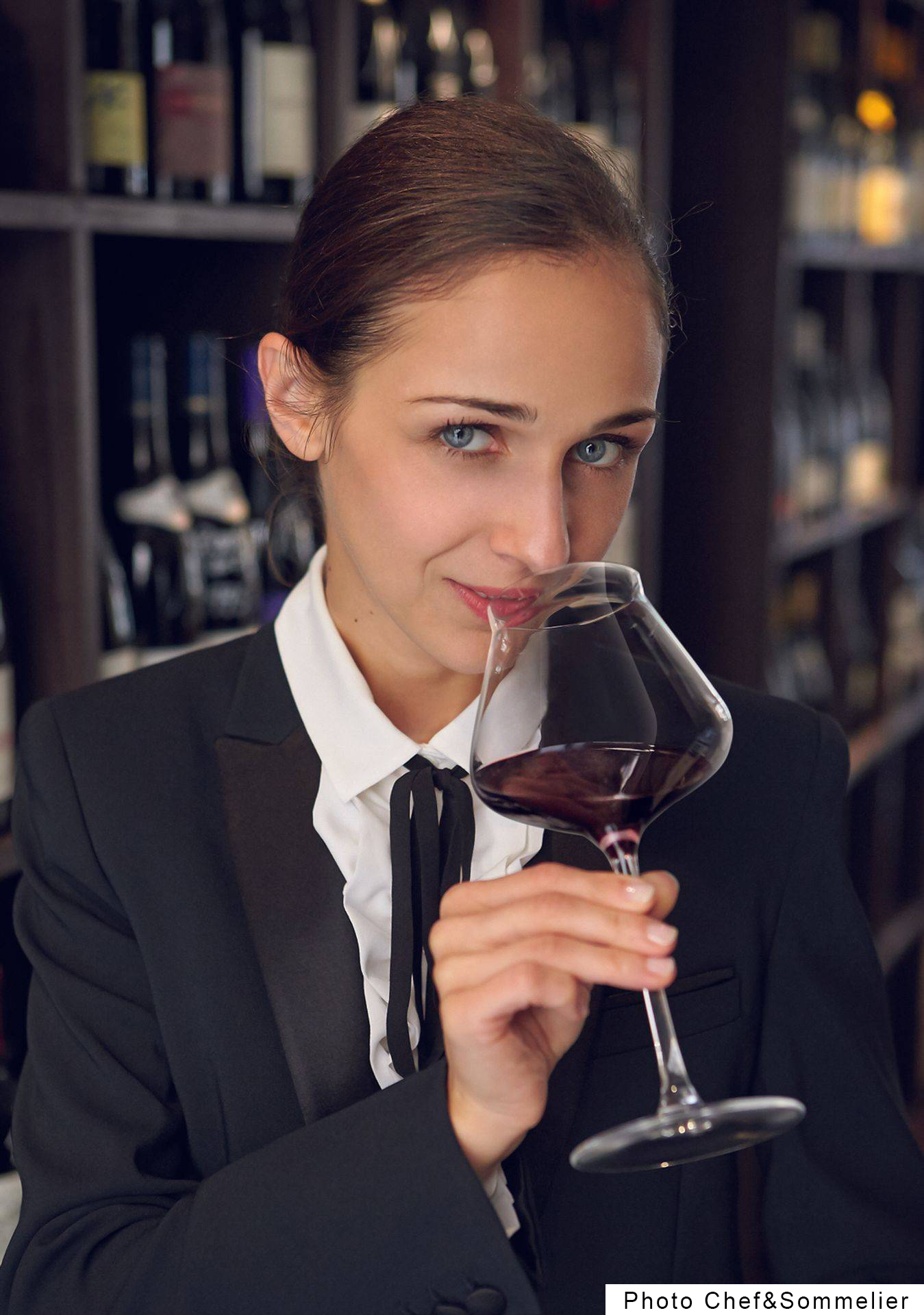 Julia Scavo, a well known Romanian born sommelier, shares her story, from the moment she obtained a scholarship in France to study Engineering, to the moment she was seduced by wine and was keen on getting further knowledge. She is also an award-winning sommelier: Best Sommelier of Romania 2018 (Marele Trofeu) in Bucharest, First Runner-up (Silver Medal) of the First Balkan Sommelier Challenge 2018 in Belgrade, Winner of the First Ruinart Sommelier Challenge France 2018 in Paris, just to mention a few of her awards from this year.
First of all, tell us something about you: where did you spend your childhood years, when did you left the country and why?
I am born in Romania, in Craiova, so not that far from Dragasani or Segarcea. There is where I spent the first 20 years of my life up to my bilingual Baccalaureate (English, Mathematics-Physics). I then obtained a scholarship in France to study Engineering in Lyon at the prestigious institute INSA (Institut National de Sciences Appliqués). After two years of general Engineering, I specialised in mathematics, passing my Degree at the University "Claude Bernard – Lyon I". This is where I also passed my teaching national contest and eventually became a junior Mathematics teacher on practice. This is where the wine story begins.
How did you first come in contact with wine?
It was during my spare time while I was a student in Lyon, capital of the French gastronomy. Wine is a culture in itself and the Lyonnais had this culture in their blood, there was always a wine fair to visit, an event to attend, a tasting where I could experiment new emotions and many wine places to visit, not to mention gastronomy as well as the mighty regions of Burgundy, Rhone Valley and Beaujolais, that surround Lyon!
And how did you decide to join the wine industry?
I was soon seduced by the field and keen on getting further knowledge, I went back to school to entitle my experience. After a Sensory Analysis course at the Wine University in Suze-la-Rousse, I also got my Sommelier diploma in Lyon, at François Rabelais Hospitality School. It was my spiritual mother and great lady of the Lyonnaise cuisine, Mrs. Elisabeth Denis, Toque Blanche Lyonnaise who helped and inspired me a lot! I then continued through: a degree in Wine, spirits and beverages' Trade and Marketing, that I passed at ICOP Aubagne while working as junior sales assistant in Château de Rouët, or as sommelier in Nice for Chef Keisuke Matsushima and wine bar "La Cave de l'Origine". Other experiences followed soon, including the honor of working for Monsieur Alain Ducasse at the Trattoria Monaco and seasonal working at the Monte-Carlo Sporting. I also took up the WSET path, with a Level 3 Award in Wines ant the DipWSET Level 4 in wine and Spirits in progress. My husband, Bruno Scavo Head Sommelier in Monaco was my mentor throughout this period.
What does it mean learning to become a sommelier?
Studying wine is studying culture. One needs solid memory and be found of Chemistry, Physics, Geology, Geography, History, having Mathematical rigours and artistic sensitivity. Which I believe I have all or at least improve every day.
We never know the tests in advance, so we can never prepare in a particular way for one specific kind of exercise. There are so many types of skills to be checked such as our attitude, decanting under chronometer, serve a sparkling wine, or other drinks, we can have a blind or commercial tasting…not to mention the high level written tests.
Of course, when we blind taste we use a systematic approach where we also mention the type of glass we suggest, what shape, what size, how it will impact the tasting, the service temperature, aging potential of the wine and food pairings. We often have few time to really debate upon each details, however their importance is considerable, so we have to mention that at least.
What is the role of a sommelier in a restaurant?
The sommelier is an emotion merchant, but also a knowledgeable professional. He/she needs to have skills to build a cellar collection and a wine list that are adapted to the style of restaurant, cuisine, the manager's demands, the type of guests and the currant wine program. He/she masters the art of food and beverages pairing, the service and the gust's entertainment with historical anecdotes, information about wines, spirits, beverages, cigars…He/she should be able to recommend cellars to visit in the area for tourist as well as other cultural attractions related to wine and gastronomy. Last but not least psychology, elegance and good language skills are essential to complete this picture. Management capacity and sales should also be a part of the sommelier's job.
How do you see the Romanian market from this point of view?
I believe Romania is able to develop this sector under one condition: harmonising its certificates and diplomas and offering high level education in the hospitality field that can compete with the level abroad. Salaries should be more interesting in order to attract sommeliers to work in a restaurant rather than for an estate or distributor. There is a change of generation right now in Romania, young sommeliers arrive on the market, let's take advantage and prepare these youth as well as we can. This actually is one of my projects, as a wine and spirits educator and trainer.
Are you also a water taster? How does this influence or complement wine tasting?
I cannot say that I am a water taster. What is true is that a good sommelier should be knowledgeable about mineral waters because they can radically interfere with the taste of the wine, of the food or both. As an anecdote, I indeed won a contest about mineral waters. It was during the Best Sommelier of the World 2010 in Santiago de Chile and sponsored by Aqua Panna/ San Pellegrino. A lot of people believed that I became the best sparkling water sommelier in the world! There was no tasting or service, or live pairing of waters and food and/or other beverages. Just a written test, of a good level, indeed. There were questions about chemistry (Van der Waals forces, molecules that interfere with water, drawing the water molecule etc…), about water's terroir and how does the rock influence the alkalinity/ acidity, hard or soft character of a water, pH of common waters, recognising water brands and their country/ region of origin by their name, giving water suggestion to pair with certain wines or dishes, type of glass to use for certain waters and so on.
Water influences the wine or the dishes by its pH, its degree of mineralization and its hard or soft character. All these play upon its texture and taste. Sparkling and still waters give different pairings with food and wines. The temperature of serving is essential and the glass impacts the taste of the water too.
This year you traveled to many Romanian wineries, how do you see the evolution of Romanian wines?
I was so glad to see new cellars born, the old ones evolving in a positive way and all in all a more complex context, more terroir focused. Extraction and oak are mastered now compared to 10 years ago when I tried to come back and work in the field in Romania. Brands are classier and labels are more refined. Producers go back to Romanian varietals, trying to better understand them and adapt them to the terroir. Clones are better, rootstocks more adapted, there is good energy floating in the air.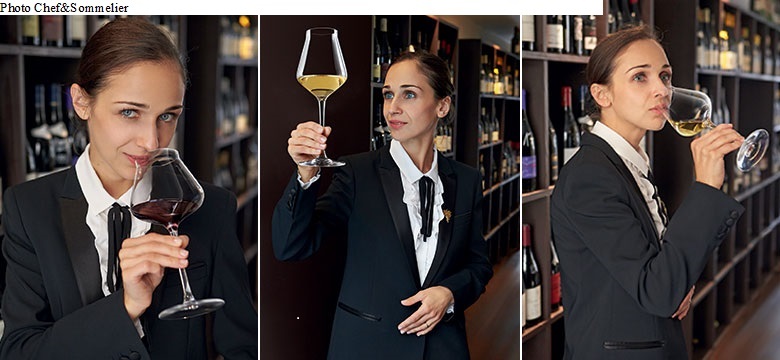 You traveled to wineries all over the world. From this perspective, how did you see our local wineries this year? Are they ready to welcome tourists?
Absolutely no worries from that point of view, tasting rooms are modern, with all facilities needed and very often accompanied by a table d'hôte or by accommodation in the local spirit. People are generous and become more and more professional in welcoming tourists or those from the wine business.
Do you come across Romanian wines in the world?
Very few, unfortunately. I hope that your initiative to create this Romanian wine board will get more wines abroad and help foreign professional getting more confidence to trust a Romanian wine and list it in their offer.
What do foreigners think about our wines? What Romanian wine is successful abroad?
As far as I could notice throughout tastings in France, UK and Sweden our international colleagues, sommeliers and merchants appreciate Romanian wine and so do the wine enthusiasts. They mostly prefer traditional grapes and really enjoy Feteasca Neagra and aromatic varieties.
What do you think Romania should do to be more internationally visible?
Romania should make a national brand out of a traditional wine or variety. The greatest success in this sense is Hungary and Tokaj. Romania should find its own "Tokaj", should that be Feteasca Neagra or another.
Which is your favourite local grape variety? How about the international one?
Feteasca Neagra is my favourite Romanian grape, and Rhein Riesling my international one.
Which wine region in Romania do you like the most? How about in the world?
I think that today Dragasani has high potential, a good deal of boutique wineries and lots of personally, with traditional grapes and extremely digest and harmonious stylistics. In the world? Douro and Port, what else!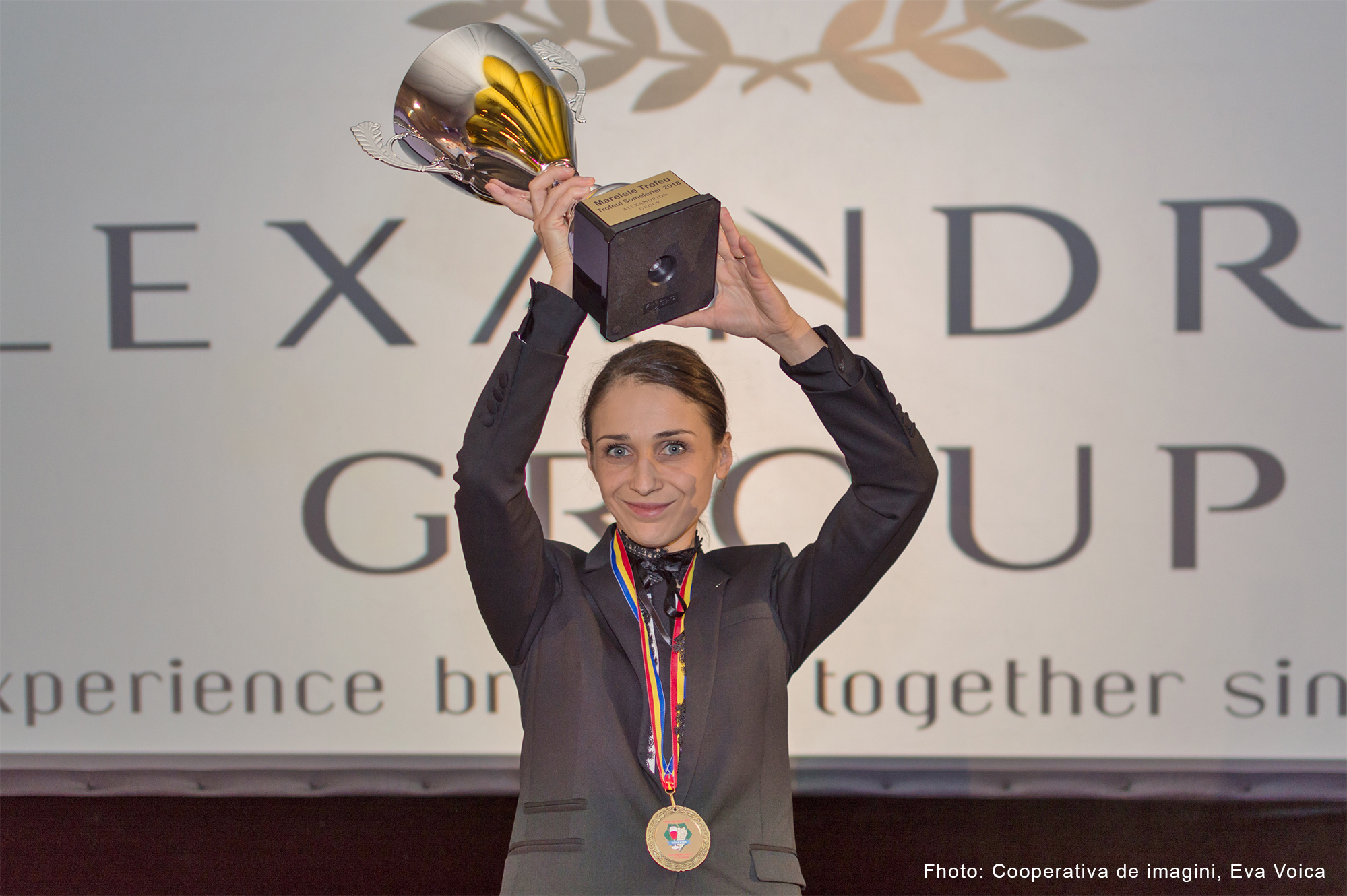 Julia Scavo's most important awards
First Runner-up (Silver Medal) of the First Balkan Sommelier Challenge 2018 – Belgrade

Winner of the First Ruinart Sommelier Challenge France 2018 - Paris

Best Sommelier of Romania 2018 – "Marele Trofeu" - Bucharest

DipWSET Level 4 in Wines and Spirits – in progress

First Lady to win the international contest "Master of Port" 2017, 15-16 October, Paris

ASI International Sommelier Diploma 2017 – Gold

WSET Level 3 in Wines – Distinction in Theory and Merit in Tasting

WSET Level 1 in Saké

Finalist ranked 3rd at the "Best Sommelier of Europe and Africa 2017" ASI Contest, Vienna, Austria
Finalist ranked 3rd at the "Best Sommelier of Europe 2013" ASI Contest, San Remo, Italy
Half - finalist ranked 5th at the "Best Sommelier of the World 2013" ASI Contest, Tokyo, Japan

Winner of the "Central - European Sommelier Championship 2012", Dunakiliti, Hungary

Finalist of the "Master of Port 2011-2012", Paris, June 2012

Finalist of the Amateur Cooking Contest "Les Etoiles du Mougins"- September 2011

Oscar of excellence 2011 in Bucharest on June 2, 2011: Top 10 Romanians of the year 2010

Half - finalist top 8 at the "Best Sommelier of Europe 2010" ASI Contest, Strasbourg, France

Winner of the Sommelier Contest "Les Etoiles du Mougins"- September 2010

Winner of the "Aqua Panna - San Pellegrino" Contest during the "Best Sommelier of the World 2010" ASI Contest, Santiago, Chile

Half - finalist top 12 at the "Best Sommelier of the World 2010" ASI Contest Santiago, Chile

Winner of the first Sommelier Contest of AGECOTEL Hospitality Fair, Nice - February 2010

Finalist ranked 2nd at the "National Sommelier Trophy of Romania 2008", Bucharest, Romania
Alina Iancu
23/11/2018