Feteasca Regala
Synonyms - Danasana, Galbena de Ardeal, Kirayleanka, Konigliche Madchentraube, Konigsast
Feteasca Regala is one of the most popular and sought-after wine grape varieties in Romania. Feteasca regala was discovered in Transylvania near Sighisoara about eight decades ago and is a hybrid between Feteasca Alba and Grasa de Cotnari.
Due to its high production rate (15-20 t/ha), it was a well-spread and highly appreciated variety during the communist period, when massive production was in fashion.
Feteasca Regala is part of the semi-aromatic varieties such as Chardonnay.
Areas of exploitation of the variety spread throughout the country.
The log is rather frost resistant, but sensitive to mold.
The flowers are hermaphroditic and the variety is auto-productive.
The pith of the grapes has a high concentration of tannins, which is rare for a white wine variety.
In Dragasani, sugar concentration of the grapes can reach over 220 g/l (13% vol alcohol) during the warmest years.
Harvest period is almost the same as that of Merlot (mid September).
As it reaches full maturity every year, Feteasca Regala can give you a full bodied wine with intense flavours and great aging potential. Ripe tannins contribute as a factor of resistance to aging as compared to other varieties of white wine.
If carefully vinified, wines from Feteasca Regala preserve the elegance of rose flavors, wild flowers or dried apricots and almonds, and this happens especially with those wines that are aged in barrels.
It may be associated with poultry in mushroom sauce or pasta with black truffle and olive oil. It may also be associated with a more oily fish in butter and sage sauce and or fresh seafood, or any other food that you like.
Source Ghislain Moritz (winemaker)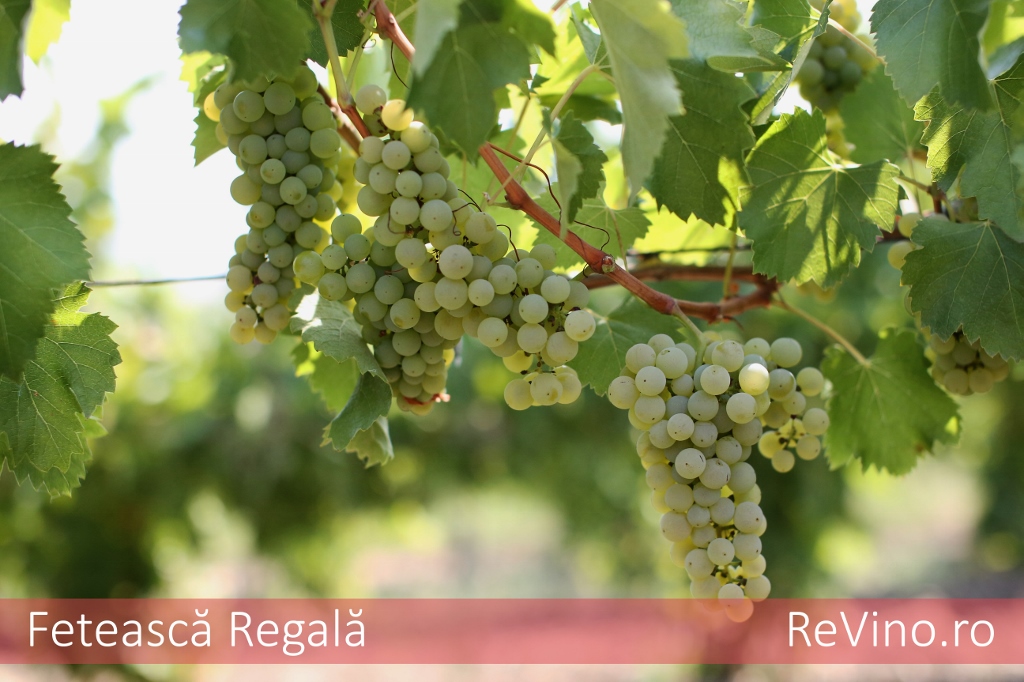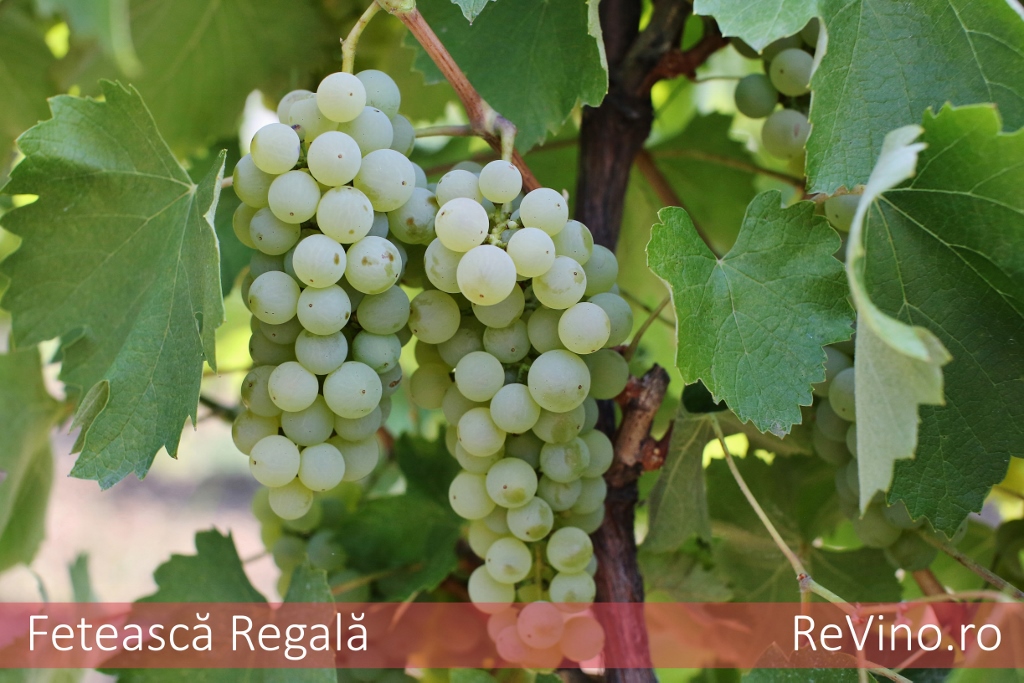 Other white grapes: Cramposie, Cramposie Selectionata, Creata (Riesling de Banat), Galbena de Odobesti , Iordana (Iordovana), Grasa de Cotnari, Feteasca Alba, Tamaioasa Romaneasca, Sarba, Zghihara.